GOLDMUND SATYA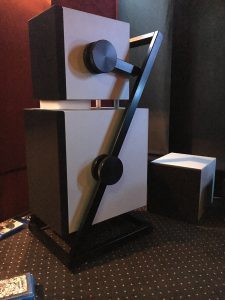 Logos Satya – Speakers
In Sanskrit Satya means "truth". It also refers to "that which is in accord with reality". In the Vedas, truthfulness is considered as an important virtue by which one is true and consistent with reality in one's thought, speech, and action. It is this coherence that characterizes the Satya in the technologies it uses and the performance it delivers.
The Satya is a lifestyle speaker that provides high-end sound quality because it integrates the technologies developed for our extreme audiophile products over decades. It has been engineered thanks to the Proteus mathematical model that calculates optimal technical parameters for a speaker depending on its size and shape.
And once again, Proteus algorithms were right; the Satya's coherence and dynamics come close to these of our most prestigious models (such as the Logos Anatta), its clarity is close to perfect, and it goes deep into the low frequencies proving to be the perfect standalone speaker for bass lovers. This is due to the fact that it includes the new Leonardo 2 technology loaded in its 3 powerful DSP's that makes it perfectly aligned for amplitude, phase and time. Three Telos amplifiers of a total of 600 watts per side also tightly control the drivers.
More than a simple stereo system, the Satya is also the ideal front speaker for concert and home cinema applications. The evolution from stereo to multichannel is very clear in the industry today, so speaker manufacturers must be ready to create products that are adapted to this trend and will only need the addition of a few surround speakers to create a full home cinema in any living room. The Satya, thanks to its reasonable price and its ability to provide the low frequencies expected by movie aficionados does, without any doubt, fulfill this mission.
Fully built in aluminum the Satya benefits from the Goldmund mechanical grounding technology that evacuates spurious vibrations that alter the sound. With two cabinets only, it takes its low frequency driver from the Logos Anatta. Its medium and tweeter are grouped in one box.
The Satya is delivered mounted with its frame. This one is inspired from the design of the Apologue Anniversary and dissimulates the power cords. These are connected at the bottom of the frame. Since the Satya is a wireless speaker, the power cords are the only necessary cables. This makes its installation extremely easy and avoids the view of ugly cables running between pieces of equipment.
Like all other Goldmund standalone speakers, it functions with the Goldmund dongle directly from a computer or with any Goldmund processor and a wireless transmitter. The simpler option is to use it with the Mimesis 11 hub that already integrates a transmitter and allows to connect to several sources, including a TV.
Positioned between the Logos Anatta and the Logos 1N2N, the Satya was the missing element in our speaker line. It now has one model for each budget and offers more choice in designs and sizes.
Specifications

Fully constructed in metal with implementation of the mechanical grounding system to evacuate vibrations.
Frequency response: 28Hz (-6dB) > 25kHz

Amplification

Built-in 600 W Telos amplification per side
2 x 175 W for medium & tweeter
1 x 250 W for woofer
Rated power consumption: 480W per unit
Amplifier dynamic range: > 100 dB (no weighting)

Connections

Wireless audio stream from USB dongle or Goldmund Transmitter
Digital input

Drivers

1 x soft dome tweeter, 1 x 7" medium and 1 x 12" woofer, selected for their high linearity and dynamics.

Bass Load
Voltage

Nominal range: 117V or 234V (+/-15%)

Size & Weight

56 W x 63 D x 123 H (cm), 140 kg per side with frame

Warranty

3 years, parts and labor.